Page Title: BuyDirect® for Savings Bonds
What you can do on this page:
The BuyDirect page lets you request the purchase of an EE or I Bond for your account, depending on the type of security chosen on the previous page. You may buy $10,000 of each savings bond security type per person (in this instance "person" refers to the entity) each calendar year. The purchase form is divided into three sections.
Section #1: Entity Registration Information - Displays the registration for your securities. All securities in an entity account carry a registration identical to the entity account name.
Section #2: Purchase Information - Simply enter a purchase amount to the penny and choose the source of funds (a bank or Zero-Percent C of I) you wish to use to pay for your purchase.
Section #3: Purchase Frequency - You can make a one-time purchase, up to five years in advance, or set up repeat purchases using common frequencies (e.g., monthly, bimonthly), or your own specific dates.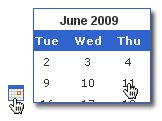 Just type in the purchase date(s) yourself or use our handy calendar tool to do it for you. Click on the calendar icon, then click on a date in the pop-up calendar. It's that easy!
You can also Learn more about Zero Percent C of I, and Learn more about Purchase Limitations.
HELPFUL HINTS:
All purchase dates will be moved to the next available business day if you select a purchase date that is a weekend date or holiday.
You won't receive paper bonds. All bonds are held electronically in your TreasuryDirect account.
A review page and a confirmation page will display for this purchase.
Primary Actions
Click "Submit" to review your purchase.
Click "Cancel" to discontinue this purchase request.