Page Title: BuyDirect® for Zero-Percent C of I
What you can do on this page:
This BuyDirect page lets you purchase a Zero-Percent C of I for your account. You may choose this option if you need a little extra to fund a purchase request made with C of I as the source of funds. There is no limit to the amount you may hold in your C of I; however, the C of I does not earn interest and is intended to be used to fund security purchases. The purchase form is divided into three sections.
Section #1: Entity Registration Information - In entity accounts, the Zero-Percent C of I is always held in the entity account name.
Section #2: Purchase Information - Simply enter a purchase amount to the penny and choose the source of funds for your purchase from the drop-down list of available banks. You may purchase up to $1,000 in one transaction.
Section #3: Purchase Frequency - You can make a one-time purchase, up to five years in advance, or set up repeat purchases using common frequencies (e.g., monthly, bimonthly), or your own specific dates (e.g., a son's or daughter's birthday).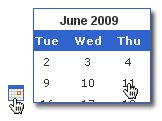 Just type in the purchase date(s) yourself or use our handy calendar tool to do it for you. Click on the calendar icon, then click on a date in the pop-up calendar. It's that easy!
HELPFUL HINTS: All purchase dates will be moved to the next available business day if you select a purchase date that is a weekend or holiday.
Primary Actions
Click "Submit" to review your purchase.
Click "Cancel" to discontinue this purchase request.